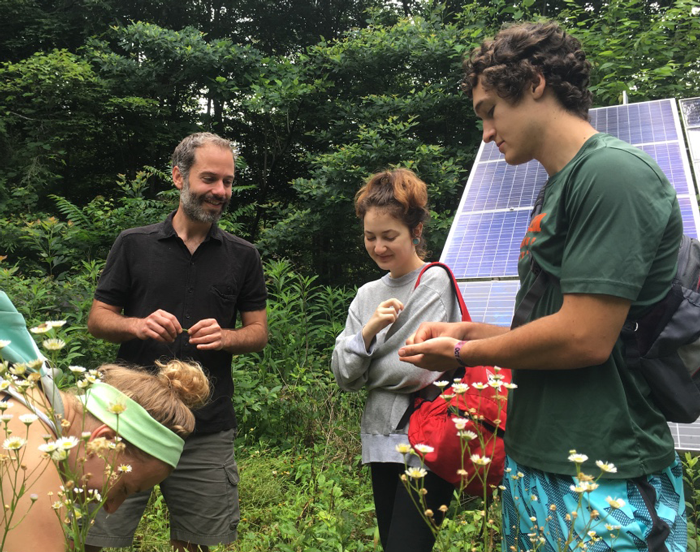 Earthaven Ecovillage Visitor Weekend
by School of Integrated Living (SOIL)
34 people viewed this event.
Earthaven Ecovillage Visitor Weekend is a service-learning program that introduces participants in the community life of Earthaven Ecovillage. The Experience Week gives participants an inside look at the radical social and ecological experimentation that has taken place in this land-based community over the past 25 years.
Today we are collectively faced with an ecological crisis of rising sea levels, polluted air, toxic oceans, and mass extinction of species, in addition to a social crisis of disconnection, isolation, and loss of meaning and purpose. Although Earthaven Ecovillage doesn't have ready-made solutions for healing all these problems, however this collection of individuals are leveraging their privilege and engaging in thoughtful, practical strategies that are attempting to merge the best of ancestral wisdom and technological innovation with ethics. As a community they are grounding their visions in authentic connection to spirit and the land, in an effort to bring some order and beauty into this fragmented world.
For these reasons this ecovillage provides the ideal living laboratory for a whole-life skills curriculum—a place to see regenerative systems in practice, food production in action, and community living on a personal level. Come engage in an empowering, inspiring, skill-building experience with the people, businesses, and farms of the Taylor Creek Watershed community.
Curriculum
The Visitor Weekend curriculum encourages participants to examine sustainability through social, ecological, economic, and eco-spiritual lenses. The learning journey weaves large-group discussions and classes together with intimate hands-on experiences in the village and farms. SOIL instructors, together with the community at large, support participants to build important skills, foster awareness for global issues, empower the self, increase connection, and develop the resources required for an embodied life.
Organic Food Production, Natural Buildings, and Off-Grid Utilities
See inside eco-friendly and consciously-built homes (tiny houses, stud-frame, cob, straw-bale, earthship, earthen plaster)
Learn where our food comes from. See permaculture and agricultural experimentation in action on small-scale farms and homesteads
Connect with and give back to the land through service learning projects and work parties
Be nourished by local, sustainably-grown, organic, and wild food
Learn about off-grid renewable systems in practice (photovoltaic, micro-hydro, radiant-floor heating, hot water diversions)
Identify, harvest, and eat Wild Edible plants
Resilient Community and Regenerative Culture
Learn about successful ecovillages and land-based endeavors (both rural and urban)
Get an introductory understanding of Earthaven legal structure and governance
Learn how conflict and loss build intimacy and are essential to community survival
Hear about the realities of Community Living straight from the mouths of Earthaven's members and residents
Personal Growth and Empowerment
Identify personal goals and resources through The Work that Reconnects of Joanna Macy
Connect to yourself, others, and the natural world
Explore what it means to be a responsible human living an authentic and meaningful life
Be supported in moving from inspiration and motivation into embodied and awakened action
Instructors
SOIL has a team of skilled facilitators who artistically co-create a powerful group experience with participants that addresses the pervasive longing for meaning and fulfillment in this time of modern crisis.
Instructors include: Dimitri Magiasis, Carmen Lescher, Diana Leafe Christian, NikiAnne Feinberg, and Chris Farmer. Learn more about the instructors.
Visit the website to learn more about the schedule, food, accommodations, and learning journey.